About
Welcome to J Bar S Ranch! We hope you come and visit us in person to experience our world-class selection of bison steaks, burgers, and roasts. In the meantime, you can purchase gift packages online using our simple order form. Please use the links below to find out more about our company and our unique operation here in the heart of Mendocino County, as well as the history of bison and bison ranching in North America.
Company History
Located just outside of Ukiah, CA, in the rugged hills of Mendocino County off of Highway 20, the land that now makes up the J Bar S Ranch began as a 57-acre purchase in 1966. In subsequent years, the ranch's borders gradually expanded and now stand at right around 700 acres. It encompasses beautiful hills, oak trees, and (of course) dozens and dozens of bison!
Seeing the unique opportunity and niche in the marketplace, our bison operations began in 1986. As the story goes, we started with a cow, a calf, and a bull. Soon we made it to 10, and then 20. Through careful breeding practices and purchasing new blood, we steadily grew both our herd and our profitability through the years. Eventually, we made it to over 100 bison, but that was a little too much work for our ranch hands as well as ourselves! Nowadays, we typically have between 75 and 80 bison—a perfect, sustainable amount for a ranch of our size.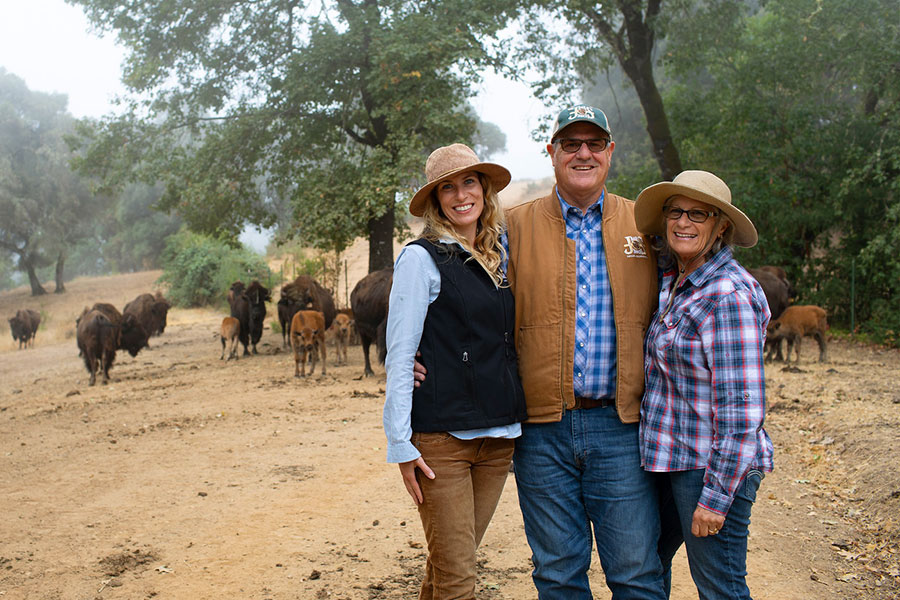 Instead of getting more bison at our current ranch, we have recently expanded by acquiring another ranch altogether! We happily purchased the Red Canyon Ranch in Wyoming and are happy to incorporate it into the J Bar S Ranch family!
Meanwhile, on our piece of paradise here in Mendocino, we make our living more traditionally than most, and we are happy to share a small taste of that with all of you. We offer the finest, most delicious bison steaks, burgers, and roasts. Also, we have plenty of barbeque sauce, as well as souvenirs here in our store. You can also visit our simple online form to order select bison gift packages available for delivery.
We are proud members of the National Bison Association, the Western Bison Association (where we serve on the board), the Rocky Mountain Bison Association, and the Dakota Territories Bison Association.
Red Canyon Ranch
Thermopolis, Wyoming
Red Canyon Ranch is an etherial natural wonder. Its story begins 252 million years ago at the end of the Permian when life on Earth almost died. The majestic Triassic-aged red stone cliffs, the variegated layers of the Gypsum Springs Formation, the ranch's dinosaur-laden Jurassic, and the Cretaceous Cloverly Formations create a fantastic vista of canyons and stunning vistas. Situated on the edge of wilderness, Red Canyon Ranch is home deer, elk, coyotes, cougars, and even the occasional big horn sheep. With rich grasses, sedges, and forbes, as well as endless water, Red Canyon Ranch is the perfect bison habitat. For fifteen thousand years, people have called the canyon home, including the Mountain Shoshoni, whose rock art still graces the canyon walls, and their camps lie buried as a record of human adaptation to the land. Here, too, is history: The Nostrum Stage Station and homestead, the great Hot Springs County whiskey raid, and one-time home of Wyoming's best-selling authors. Red Canyon Ranch is more than bison set against heart-stopping vistas, it is a place where dreams are made real. We are delighted to share it with you!
Ranch Tour
The next best thing to being here in person, take a virtual tour to experience the J Bar S Ranch! With this fantastic photography, you'll gain just a little insight into our daily routine and all the work that goes into maintaining this way of life and our ranch in particular.
Click through our pictures to see the expanse of our beautiful property, some of our store and ranch facilities, and (of course) the majestic bison.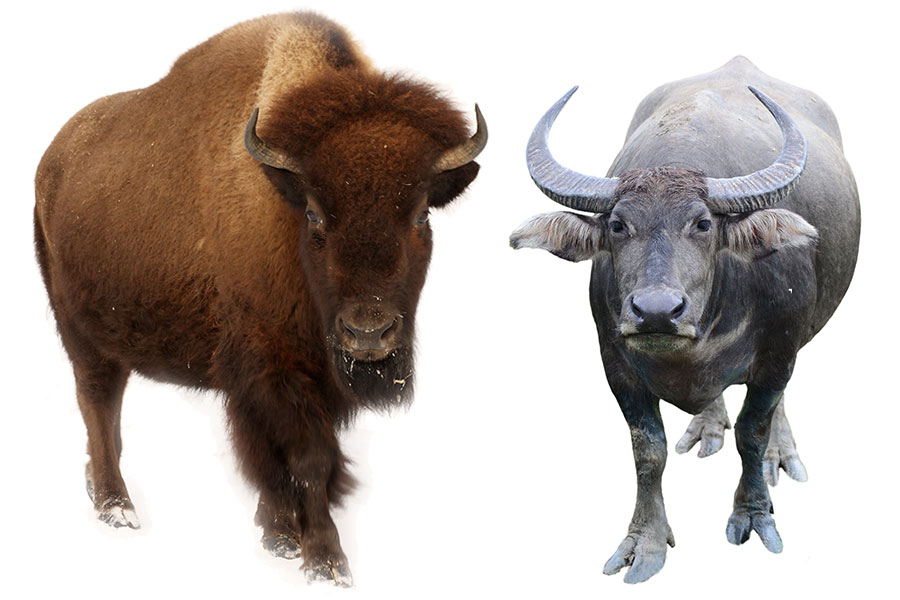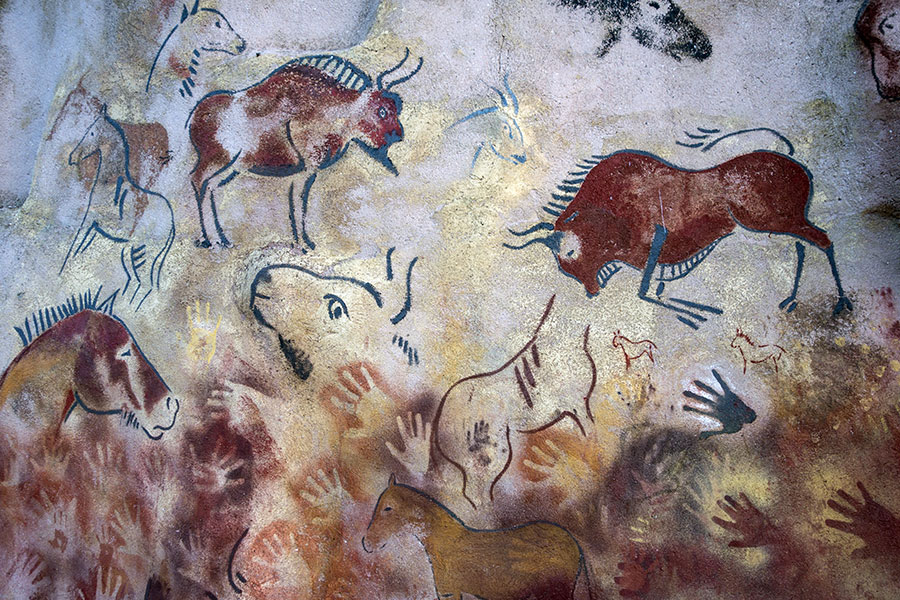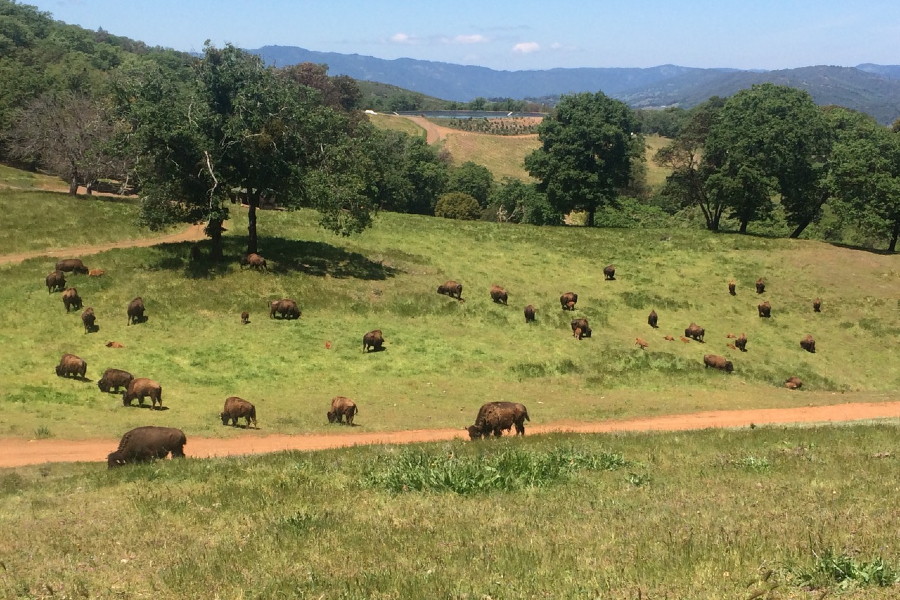 Bison Industry
The modern bison industry grew out of the need and desire to save the species from extinction. As bison were rapidly disappearing from the wild, a few ranchers and conservationists decided to take action. It's estimated that less than 1,000 bison existed prior to 1900 before efforts were made to preserve and restore the species.