Recipes
The best part about bison is enjoying all the variety of unique recipes and preparation methods, so take a look below at some of our favorite tried and true recipes. And remember, you can substitute bison for the primary protein in almost any recipe you already know. So we encourage you to experiment, be adventurous, and share your culinary creations with friends and family. And, if you want to share them with our community as well, we'd be happy to post them on our website!

Slow Cooker Texas Bison Chili
This bison chili was adapted from an old family recipe that originally used beef, but bison's leanness makes for an ideal substitution! It has all the savory flavor of an authentic Texas chili and the ease of slow cooker preparation. With not too much spice, it's a dish the whole crowd can enjoy. However, if you're looking for extra heat in your chili, you can always supplement with spices such as cayenne, red pepper flake, or additional helpings of your favorite hot sauce.
Ingredients:
2.5 lbs J Bar S Ranch bison meat (whole or ground)
1 yellow onion
5 cloves of garlic
5 tbsp chili powder
1 tsp salt
2 cups chicken broth
8 oz tomato sauce
1-2 dashes of your favorite hot sauce
1-2 cans of kidney beans (optional)
Instructions:
Chop/cube the bison into ¼ -½ inch pieces, dice the onion, mince the garlic, and add to the slow cooker.
Add all the remaining ingredients to the slow cooker, stir until well incorporated.
Cook on low for 8 hours (recommended), or high for 3 hours.
(Optional) Add kidney beans with ½ hour left of cooking time.
Serve with cornbread.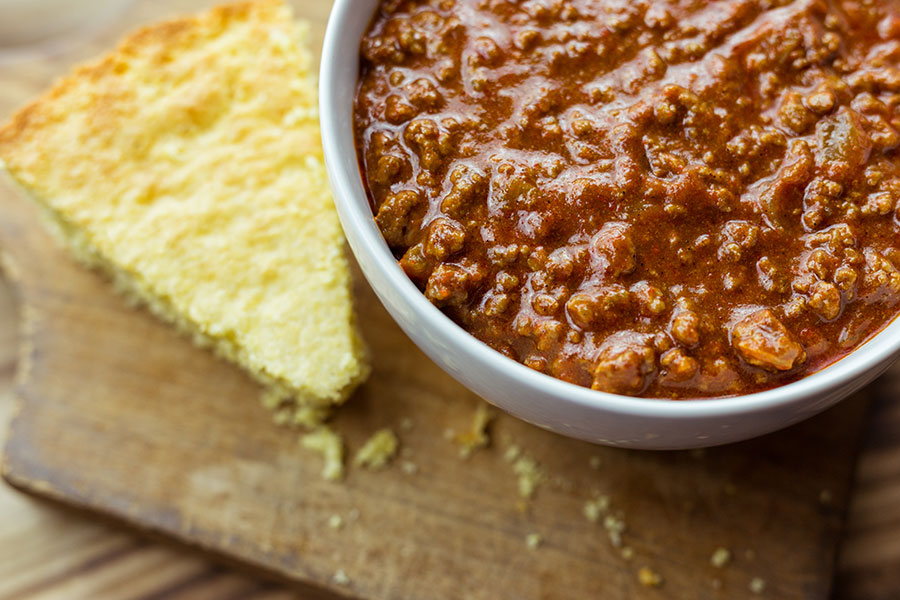 Orange Buffalo Roast
Ingredients:
3-4 lbs J Bar S Ranch buffalo roast

1 slice of bacon, cut into small pieces

2 cloves of garlic, crushed

5 tbsp chili powder

1 bay leaf

2 cloves

1 cup of orange juice

Salt and pepper

1-2 cans of kidney beans (optional)
Instructions:
Cut slits in the meat and insert small pieces of bacon and garlic. Salt and pepper well. Put meat in roaster and place bay leaf and cloves on top. Baste with orange juice. Roast at 275F for 25 minutes per pound or until internal temperature reaches 125f-130f (rare) to 140f -145f (med).
Buff-N-Biscuit
Ingredients:
1 lb. ground J Bar S Ranch buffalo

5-6 stalks celery (about ½ pound)

½ onion

2 tsp. oil

¾ to 1 tsp. salt, or to taste

¼ tsp. pepper

2 tsp. paprika

1 ¼ cups water, divided

2 tbsp. arrowroot or tapioca starch

1 batch of any biscuit topping for casseroles
Instructions:
Slice the celery into ¼" slices and chop the onion. Sauté them in a skillet with the oil until they begin to brown. Remove them to a 3 quart casserole dish. Put the buffalo in the remaining oil in the skillet and cook, stirring it occasionally, until it is well browned. Drain any fat from the pan, and add the salt, pepper, paprika, and 1 cup of the water. Simmer the mixture for 30 minutes, adding more water while it is cooking, if necessary, to bring it back to its original level. Combine the arrowroot or tapioca starch with the remaining ¼ cup of cold water and add the mixture to the pan. Return the meat mixture to a boil, and simmer it until it thickens. Put the meat into casserole dish with the celery and onion and stir them together. Top them with the biscuit topping, and bake at 350f for 35-40 minutes, or until the topping browns.